Garmin Data: http://connect.garmin.com/activity/43724564
What better way to start my blog than with the "Swiss Train" – You have seen them before on this blog — but the deserve another appearance. Bruno on the left and Daniel on the right. I think they are probably the two strongest riders of the entire group — and two of the nicest guys you'd ever want to meet!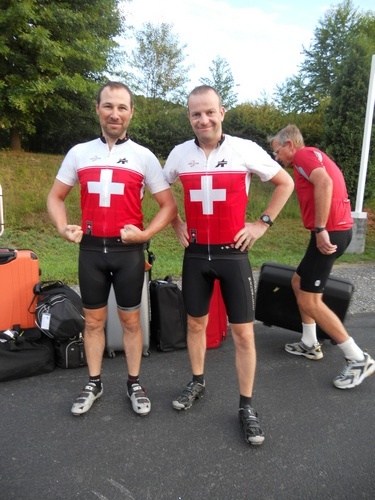 We stayed at a Holiday Inn Express last night — it appears to be relatively new and in great shape! Some of our recent rooms have seen better days as has some of the equipment inside (mostly the air conditioners!) . Last night our room was cool and comfortable and I got a great night's sleep.  Breakfast was also a pleasant surprise. In addition to the cereal and other cold breakfast items, they offered little egg omletes and sausage patties. Plenty of fuel for our 5,000 feet of climbing!
I continued to be impressed by our group and the way we interact as one big family. At any group gathering (mostly meals) everyone mixes well and you can find virtually any combination of riders sitting together. It is very inclusive and appears to know no boundries. This morning I ate with Howard and Shirley. We were warned at RAP last night that breakfast was going to be served at 6:30am….and we were NOT to show up even one minute earlier! The day before, some folks showed up early and were "hovering" while the staff stocked the breakfast shelves. By the time I got down there at the appointed hour — most everything that was put out initially was GONE and the staff was in the process of restocking! As a group, we can make food disappear FAST!