Garmin Data; http://connect.garmin.com/activity/43161354
Today was Erie Canal day and the last of our 90+ mile days. It is also our last Wednesday ride! We rode along the canal on a bike path for at least 20 miles. The path is right next to the canal and very popular. We started out shortly after 6am and were on the path within a half hour. Even at this early hour there were lots of other cyclists, walkers and runners sharing the path with us. We were passed by a very large youth group (all in yellow T-shirts riding "comfort" & mountain bikes) going the other way. They were riding on the road when the passed us to avoid the "Please Walk Your Bikes" stretch. Everyone had a big smile and a warm "Hi!"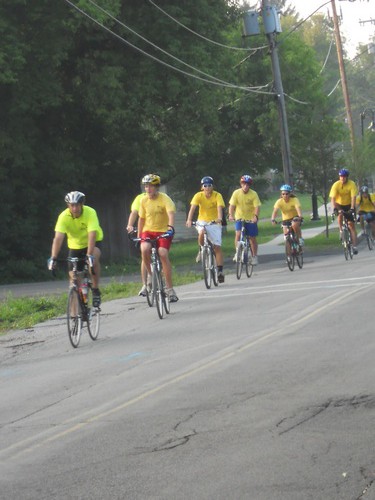 Here we are doing as we were asked… that's Kim on the left and Renny in the red & black jersey ( I call him the Red Skunk when he has this on). Kim pinned the American flag to his jersey for the first time (on this trip) this morning. Apparently, this is a tradition for him. He always wears the American flag pinned to his shirt for the last week of all his trips. Pretty cool, eh?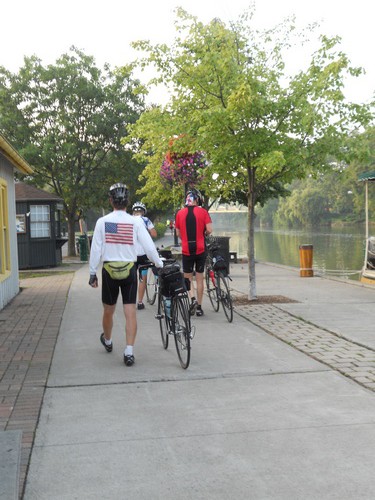 I'm going to include some of Leo's photos for today's blog. I think this is only fair since he has sent all his family and friends this link instead of writing a blog himself! I think he just wants his evenings free and doesn't have the patience (like I do!) to deal with the various internet issues we encounter. Here's a shot Leo took early in the day. I hope it conveys the "thick air" — talk about HUMID – OMG – if it got any more humid it would have rained on us (storm or no storm!). The sky was hazy all day long and in addition to making it very difficult to breath and exert, it cut down on our visibility. No "way off in the distance" kinda shots today!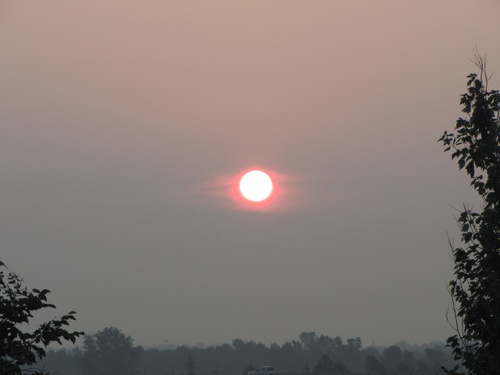 (Leo's photo)
The path along the canal was absolutely beautiful and although I liked riding on the asphalt sections better than the hard-packed dirt sections, I'd do it all again in a heartbeat! And, as our leader Mike told us as RAP last night — "Just keep the canal on your right and you can't get lost. " He was right!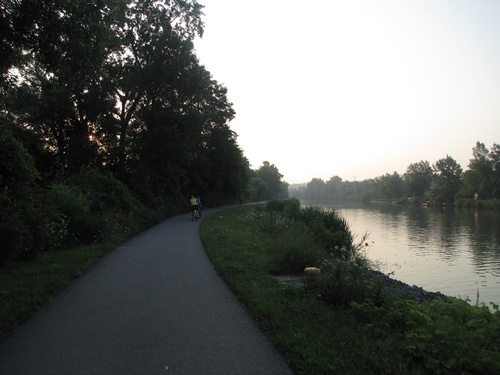 (Leo's photos)
I didn't see the folks rowing — but Leo did. This is something I've always wanted to do and I would have loved to see them practicing. The group I was with stopped at the private rowing club's building but we stopped to use their restrooms! The fellow who knew the combo to let us in was a rowing coach. I'm betting he was these rowers coach! The coach (below) is also an avid cyclist and he rides a Trek Madone 6.5 just like Scooter. As you might imagine we raved to each other about our bikes.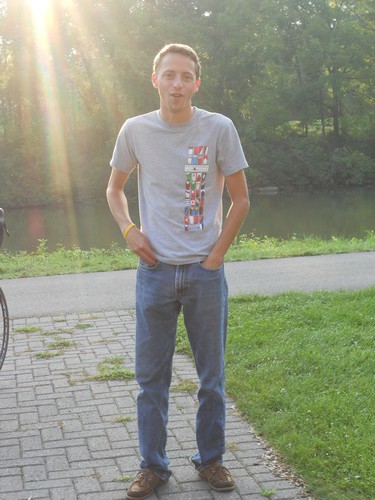 And, as luck would have it, we got to see a boat in one of the locks. It was a first for me. The vessel was heading up stream and had to be "lifted" to match the water level of the upstream side of the lock. It was probably a difference of 15 feet or so.
Here's how it all happened. We left before the boat was released but you get the idea…
Both ends are closed…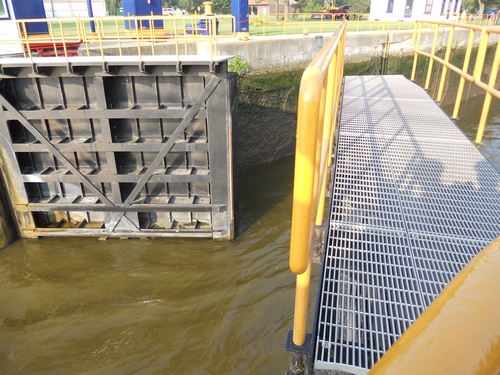 The boat is inside… and they add water (not sure exactly where it comes from, but it appears to be from below the surface of the water).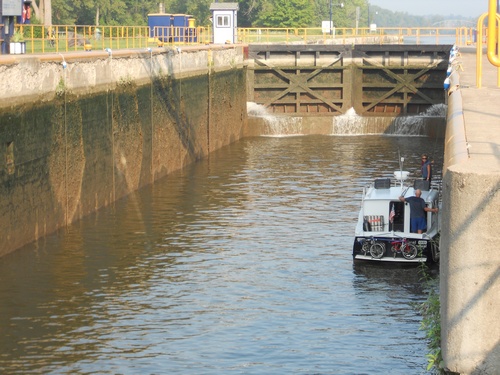 Almost done ….notice the bikes on the back of the boat… these folks are OK by us.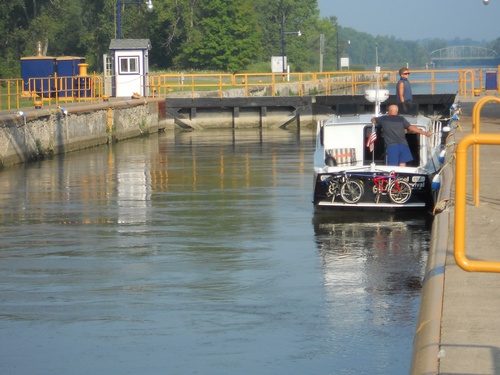 I asked them what it cost to use the locks and the fellow said that they have an annual pass that allows them to use any of the locks as often as they like — the fee, $75.00. I was envisioning a much larger number!
Unfortunately, we didn't get to ride next to the canal all day. We were back on the roads by mid-morning and at the first SAG stop in record time. So early, in fact, that the ice cream store where the SAG was set up wasn't even open yet! Katie took it pretty hard. That's Sarah trying to console her. Katie's parents and sibling surprised her by coming up today and when she got to the hotel, they were all waiting in the lobby — talk about SURPRISED!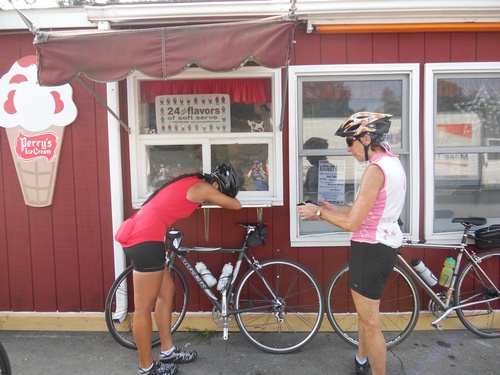 Staying cool was the order of the day — and an ice cream would have hit the spot for most all of us. These folks really missed out on some serious income today! Andrew decided that having less hair was the way to stay cool. He stopped off at a barber shop mid-day and when we caught up with him (only because he had a flat) we honestly didn't recognize him! Once we saw "The Tank" we put two and two together. Of course, we stopped to "help." See how much help we were! Behind Andrew are (l-r) Renny, Sarah and Tom (Fort Worth).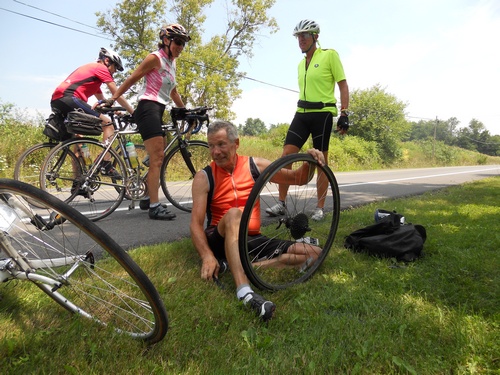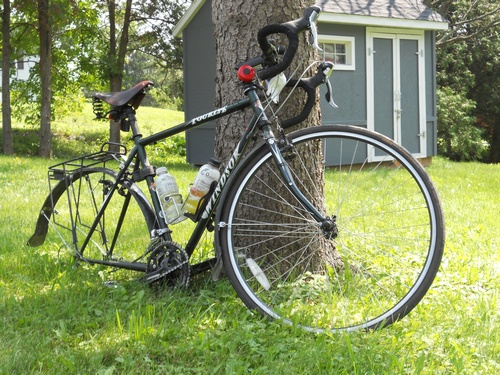 We were only 20 miles from the hotel when we came upon Andrew. It was getting uncomfortably hot (had been for hours as far as I was concerned!) so most folks were now focused on getting in ASAP.  Teresa was as serious as anyone – as you see, she clearly can smell the barn.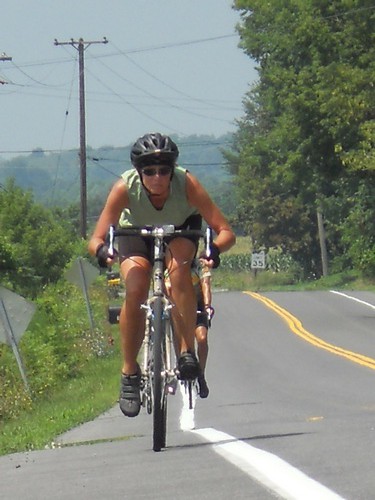 Of course when we got to "the barn" — we found some tired folks. Margot got as far as the luggage caddy before she had to sit down and start in on her recovery drink.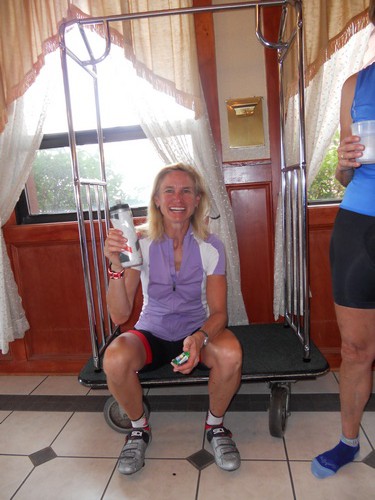 This is one of my favorite hotels — the towels here are big and very fluffy. So often, hotel towels are kinda scratchy (from being bleached so heavily I think). The towels today must be brand new! Ahhhhhh.