Garmin Data: http://connect.garmin.com/activity/43307123
I haven't gotten many photos of Leo lately because he's been riding like a tire-eating dog is chasing him! I just can't keep up with him. He's such a great guy though and has left with me from SAG stops several times with the intention of hanging back with me — but after a while, I just send him on.  So, today I got a photo of him.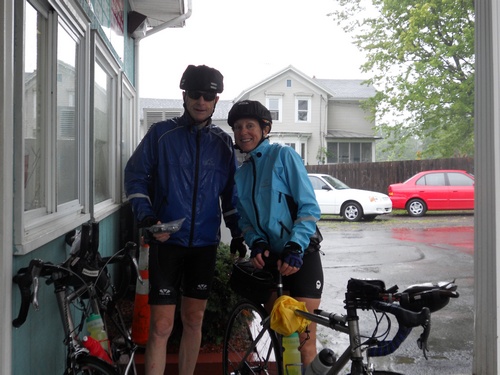 Starting out this morning the sky was so hazy I thought it was fog. It was also hard to leave the fluffy towels behind but I'm gettng excited about getting close to the coast so off I went. I could've used those fluffy towels at about 11 miles into the ride.
As I rode the first few miles I was thinking to myself… "How am I going to describe this in my blog tonight?" Well, the best I could come up with is that it felt like I was riding through pea soup. Incredibly humid. Luckily it was not too hot.  It felt like it could rain at any minute. At mile 11 we started to feel a few drops of rain and we stopped so Renny could put his route sheet into a baggie. In the short time it took for him to do that, we went from a few drops to a full downpour! Sarah and Renny pulled out rain jackets and tried to get them on before getting drenched. I didn't even bring a rain jacket, so I started riding and found a big maple tree to hide under. Sheets or rain came down like I haven't seen in quite a while.  A women with a golf umbrella was heading home from a walk about this time and she yelled to me that I could wait out the rain in her garage. She didn't have to say THAT twice! I rode down her driveway and tucked myself and Scooter in beside her SUV and watched the sheets of rain for the next 10-15 minutes. We chatted — she and her husband are retired and big golfers. Her husband was helping at a PGA event in a nearby town. Wonder if my friend Randy's son is there… that would be pretty cool. Anyway, once it seemed like the worst of the storm seemed to have moved through, I left and proceeded to chase the storm.
I rode through rain most of the rest of the day as did everyone else. The thing about this ride is no matter what the conditions — you ride.  To be perfectly honest, I preferred today's rain to yesterday's hot and humid conditions. No worries about overheating. Some of us have been talking the last couple of days about how we can now ride 80 or 90 miles and not be totally exhausted. Good thing. There are two really difficult days ahead of us — over 5,000 ft of climbing each day and some very steep climbs.  I sure hope we manage to get them done without falling into a heap at the end of the day!
Little Falls is an old mill town. The buildings are awesome and there's a canal here too. Unfortunately, it is getting to be my bedtime so I'll have to finish this tomorrow. 'night.