ata: http://connect.garmin.com/activity/43413988
Today was one of my favorite ride of the entire trip. I'll fill you in on the details tomorrow (if I survive the hills!) — too much to do this evening so no time to blog. We rode on a fabulous bike path for much of the day and we had a strong tailwind that made us all feel like super heros on bicycles!
I somehow managed to get myself nominated to be an MC at our banquet along with Toronto Mark — so we spent the evening trying to figure out what the heck we're gonna do! How does this stuff always seem to happen to me!
But to hold you over until I can add more — here's a cool photo of a barn that was on the road before we hit the bike path.
— November 20, 2010
OK, it took me a lot longer to get back to finish this page than I thought it would. As I reviewed the photos I took on this day, all the great memories came rushing back. I must admit, I do not remember exactly how I felt on this day anymore, or what I thought about as I rolled along — but I do remember it being a gorgeous day and that I smiled inside the entire time!  I'll let the photos and their captions tell the rest of the story…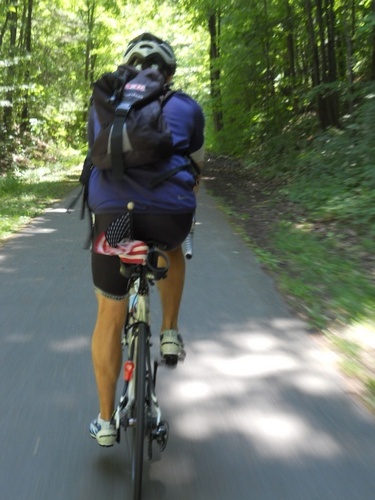 I can always recognize Todd by the flag.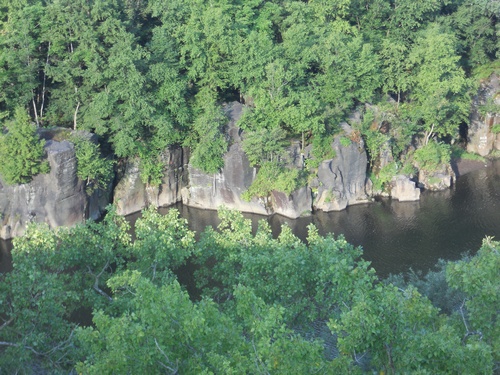 These quarry shots remind me of my home town and its brownstone quarries.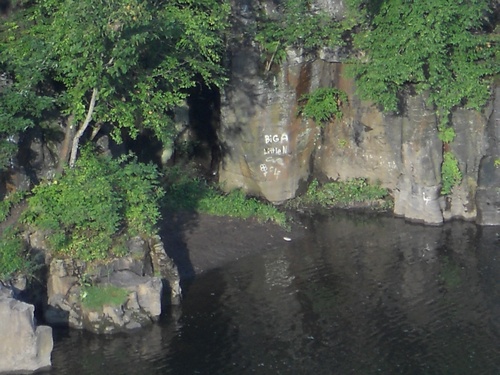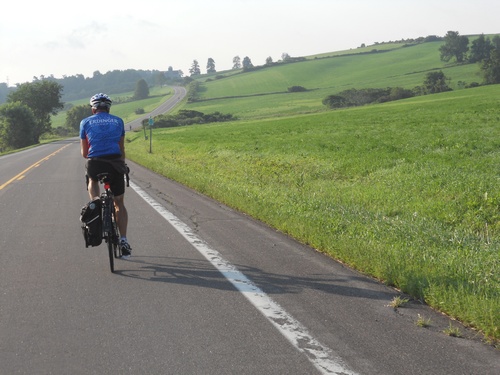 Andrew and "The Tank". I think there is a sofa in that rear pannier….maybe an entire living room!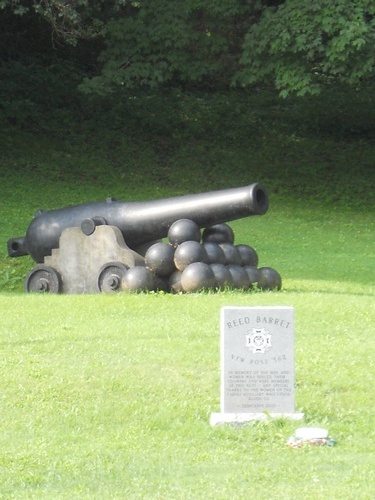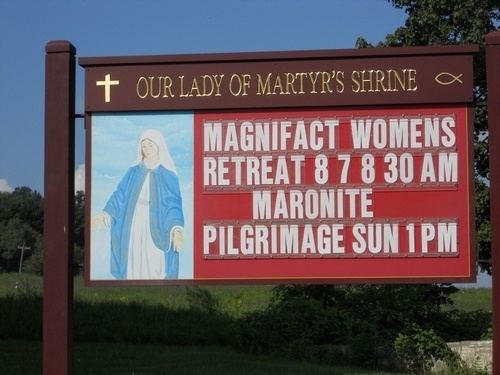 I took this photo so I could do "research" when I got home on this shrine.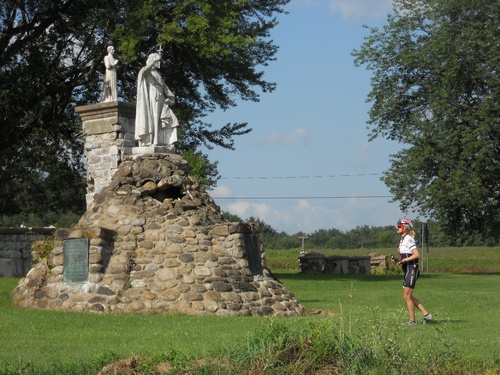 Here's what I found on the internet about Issac Jogues…
"St. Isaac Jogues was a French Jesuit priest who joined the missionaries in New France, Canada. While running supplies on the St. Lawrence River in 1642, he was captured along with St. René Goupil and taken to the Mohawk village of Ossernenon. Having survived gruesome brutalities, he was kept as a slave.
A man of profound humility and faith, he ministered to the captives and evangelized the Mohawks. With the help of Dutch settlers, he escaped to France only to return to Ossernenon as a peace ambassador. He was martyred on October 18, 1646 when a box of his belongings was blamed for crop pestilence."  (Copyright 2009-2010 Shrine of Our Lady of Martyrs. All rights reserved.)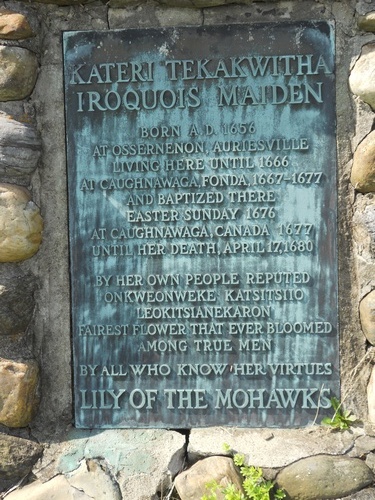 "Kateri Tekakwitha was born in Ossernenon ten years after the martyrdom of St. Isaac Jogues. As a child she was scarred and nearly blinded by small pox. During the hours she spent alone, God developed in her a deep sense of mysticism, purity and charity. After her baptism she lived an intense devotion to the Eucharist as a consecrated virgin. Because her health was compromised by penances and untiring service to others, she died on April 17, 1680 at age 24 whispering the names of Jesus and Mary. Upon her death, the small pox scars miraculously disappeared." (Copyright 2009-2010 Shrine of Our Lady of Martyrs. All rights reserved.)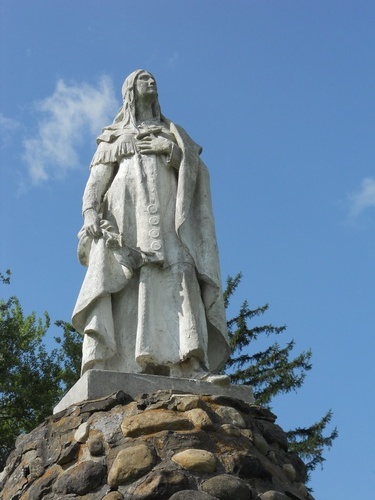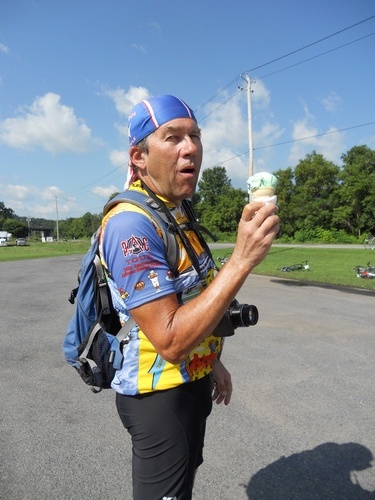 And then again, there's Leo. He's no saint, that's for sure! He certainly does know a thing or two about ice cream cones though. I think he had multiple cones on this particular day.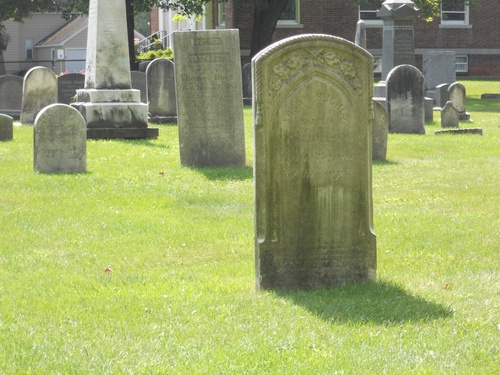 I guess when your residents date back to the 1600's you should expect there to be lots of cemetery plots. I've always liked walking through cemeteries and reading the tombstones. Now that I live in Colorado, I don't get to do as much of this since there aren't as many people "underground" out there.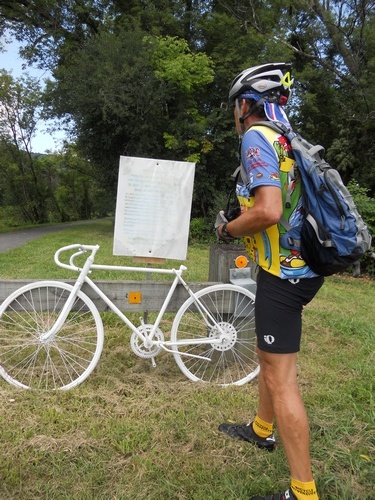 This was our second ghost bike — which seemed unlikely in my mind. I'm not sure how many there are in the country, but to come across two of them on one ride (OK, it is a loooong ride) sent chills up my spine. After stopping here,  I was even more alert than usual to my surroundings.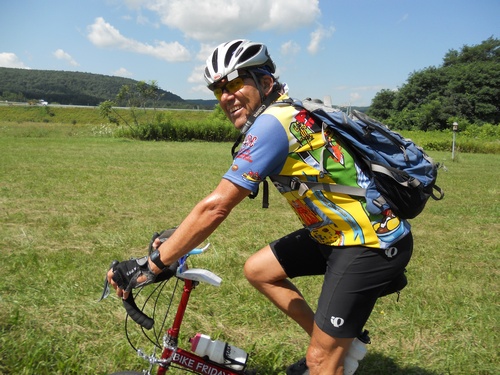 Leo on his funny little bike, "Tuesday", with the cute shark sqeaky horn.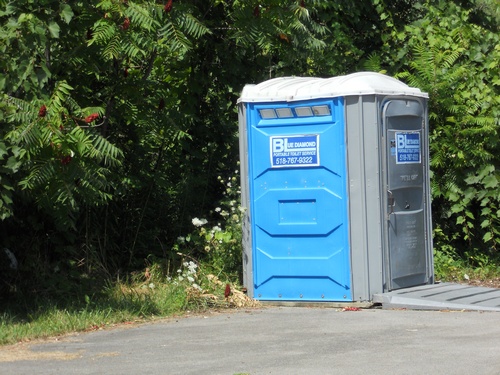 Wow! They make the porta-potties pretty big out here! The variety continues to amaze me. I passed up using this one, but couldn't resist taking the photo.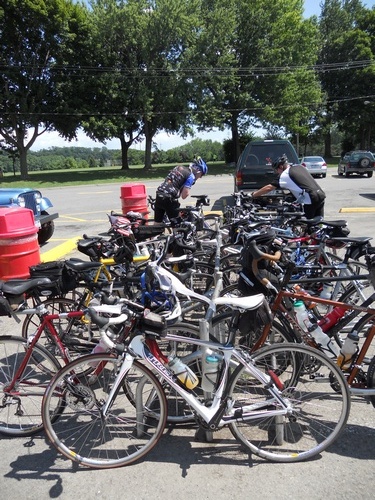 Must be food nearby, eh? Yup. This was a non-SAG stop for lunch. I skipped the food — but it looked mighty good. And, of course, the ice cream cones and cold drinks were a hit with everyone. I let Scooter hang out with the other bikes while I stretched my legs and visited. I let Mike Munk borrow my little camera here so he could get some pictures of us all struggling up a nasty hill not far from here. Turns out, he didn't need it as he got his backup in time for the shots.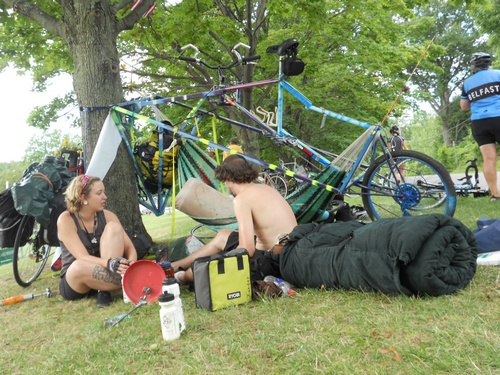 And… I got my camera back in time to take photos of these cyclits/adventurers/hippies that were on their way to the legislature to lobby for something-or-other. Can't quite recall now, but at the time, I remember thinking it was as good a destination and reason as any I had to ride.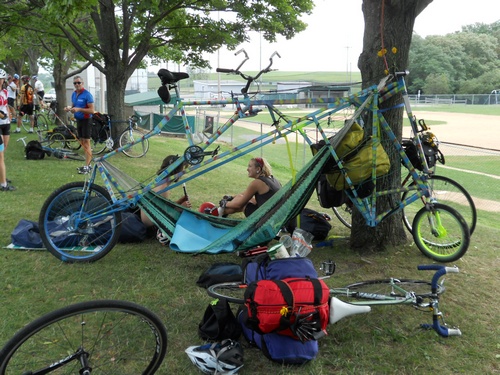 These are all custom (no, really?) hand made bikes. Takes quite a bit of imagination and skill to put one of these together. And to think I get nervous about changing Scooter's chain! UGH!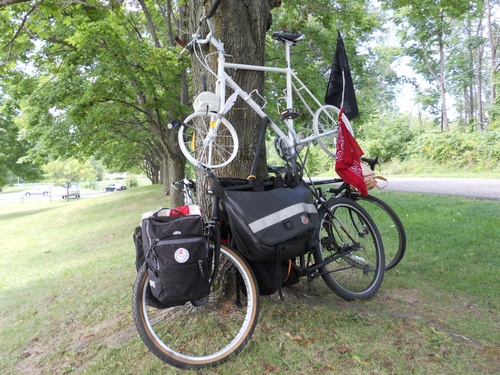 I didn't count this as a third 'ghost bike'. This is merely a replica — thank goodness!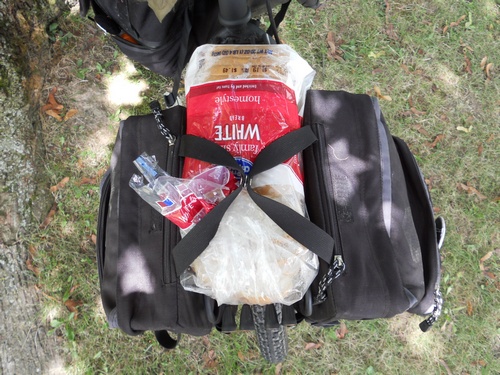 It's fine to carry you own food — and this loaf has a good chance of staying un-squished. But, really — white bread!?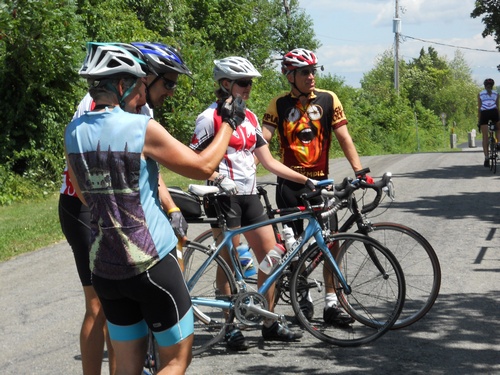 I wasn't the only one who stopped and visited. Just about everyone spent some time chatting with the cyclists and admiring their bikes. Glad I had Scooter for the trip instead on one of those custom bikes. Even though they said their trip was about a week long — I've got to believe they dealt with some pretty interesting mechanical issues along the way… and an array of bizarre aches and pains from their crazy riding positions.