It rained last night — not sure how hard, but it must've gotten all the rain out of its system because we woke up to cloudy but dry skies. Karen said that drizzle was predicted for our departure. I was happy about the change. I carried my rain gear (in my GoLite backpack) anyway just to make sure the rain stayed away!
The official ABB breakfast was either a cold continental deal at the hotel or a nice hot breakfast about 2 miles off route — I went with a third option — a egg breakfast sandwich from Tim Horton's donut shop that was only two buildings down the road. It was pretty good and it was fast! I was not alone either — (l-r) John, Steve, Dereka and Nan (behind Dereka in the yellow rain jacket).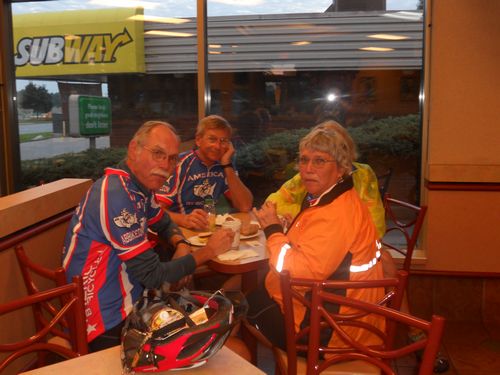 Today I rode early on with Margo — we had a good time visiting as we rode along, but Margo is a stronger rider than me and I felt that I was holding her back. She stayed with me for a while longer, but eventually she motored on and I fell back to a little slower pace.  I snapped a picture as she pulled ahead of me. I guess I'll just stick to hanging out with her once we get to our destination!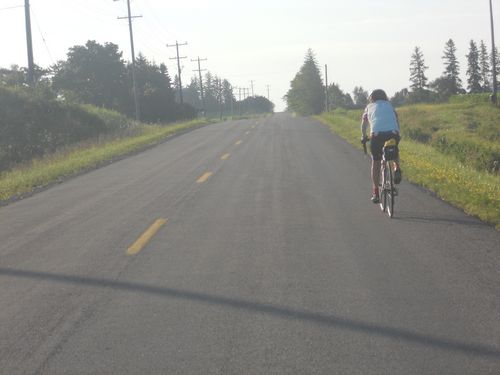 I was quickly caught by Leo and Andrew — who started off later than I did from the hotel. As we rode along we had some wonderful vistas and great roads — but our luck ran out and we had about a mile of fresh chipseal gravel – UGH!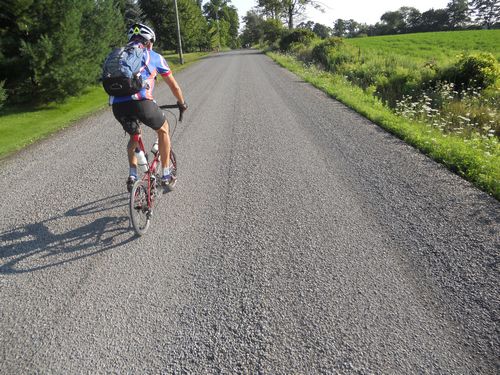 Since today we are riding into our rest-day town it was "Jersey Day" — most of us wore the ABB jerseys but this time other country jerseys were also OK. The Swiss Train  wore the jersey that is worn by the Swiss Cycling team. A very handsome duo! That's Bruno on the left and Daniel on the right.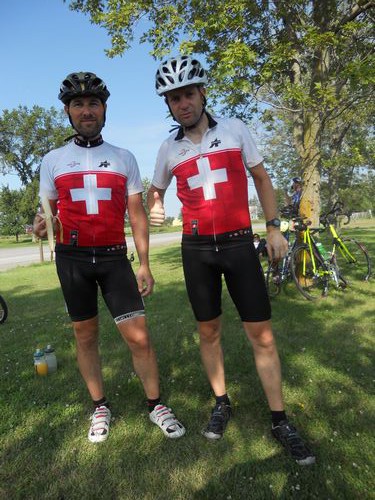 I couldn't resist sharing a photo of the candy display from the little store where we bought our chocolate milk  (getting to be a habit to have a carton of chocolate milk in the afternoon to power us through the last 20-30 miles). Lots of brand logos and names are slightly different in Canada. Wonder if the candy tastes different too?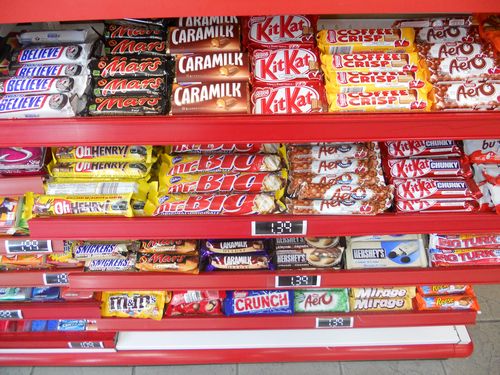 Here (l-r) Andrew, me and Katie are with today's cartons of milk…. we had just passed a sign that said "Niagra Falls    37" which was a bit of a bummer because we thought we only had about 20 miles left. Well, it wasn't until dinner when Andrew shared that he was a bit bummed too — until he realized that the 37 was kilometers — not miles! DUH!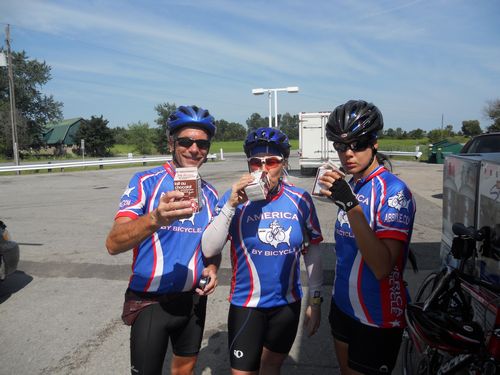 I don't remember exactly when Mark (NJ) joined us — but we ended up riding together and we had a great time. Andrew shared another of his stories with us and Mark got to hear this one and seemed to enjoy it as much as Katie and I do.  Here's a shot of Andrew and his audience during story hour….
(l-r) Mark (NJ), Katie and Andrew.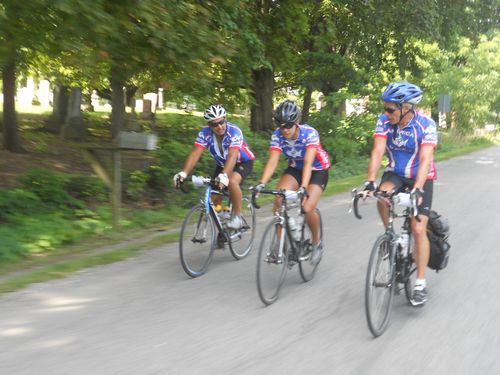 We rode my favorite stretch of road today — so far, anyway. It was a windy road through lots of trees and the road undulated and tilted like an amusement park ride. Now, I could never do this as a roller coaster — but as a bike ride it was the BEST! At the end, there was a very short, steep hill. My Garmin topped out at 21% grade!
Today's "wildlife" was a young cow — being handled in preparation of being shown at a 4H show. The handler's name is Jimmy. The cow doesn't have a name — can you believe that! I name my chickens — and this poor cow is nameless!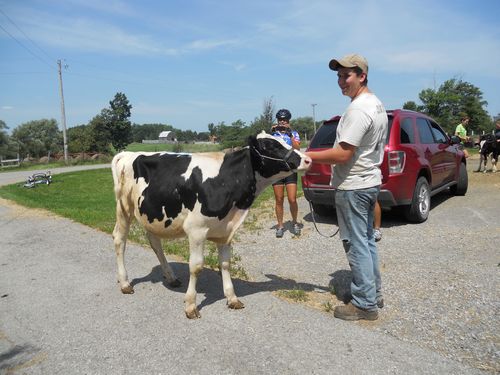 OK — here's todays mystery — what is this a photo of? (I do know the answer…)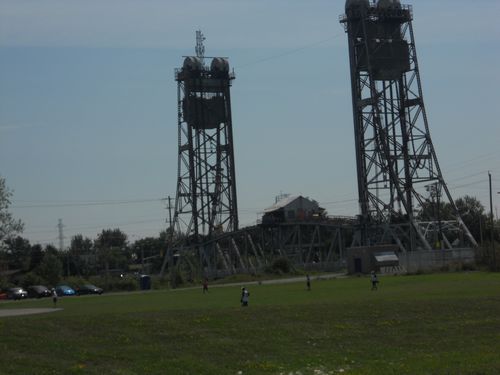 Last, but certainly not least — we got to the Canadian side of the falls. I knew we were close when we saw this sign.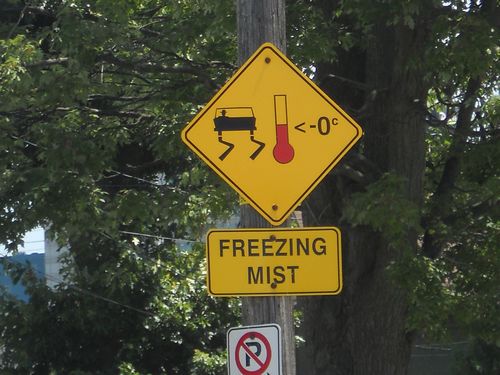 And — the posting would not be complete without a shot of the falls themselves. The little spot n front of the falls is the "Maid of the Mist" — that takes tourists to the base of the falls. Beth is here (YEAH!) and we're planning on being on that boat tomorrow morning!