But…. that's not all.
There were perhaps 25 of us who stayed overnight at the hotel in Portsmouth, NH. After we stormed the beach yesterday we rode the 11 miles to the hotel and then packed up our bikes as quickly as we could. 
This is Leo and his wife, Sue — she came to join him for the third and final time. Sue rented a bike and was at the beach taking video of us all as we came in. They plan to stay in the area a few more days before returning to "reality."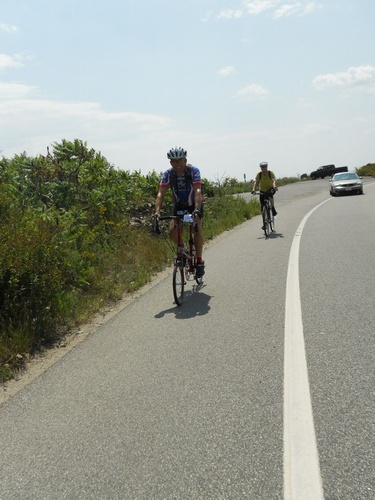 Michael and Matt headed back with us as well.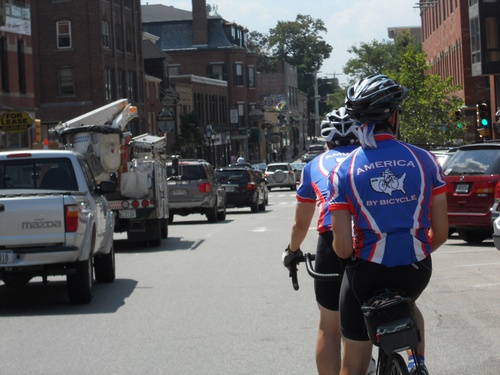 I wrote my airport experience in an email to Andrew and some other riders — I think it tells the story pretty well so I'll share it with you as well.
When we got to the hotel, everything…and I do mean EVERYTHING was out in the parking lot waiting for us to claim. It felt a little bit like a second scavenger hunt! In addition to my normal luggage, I had a hard-case bike box, my mechanics stuff (a small stuff bag and a small cardboard box that was once used to ship book by Amazon.com) and a mostly-used-up GatorSkin tire.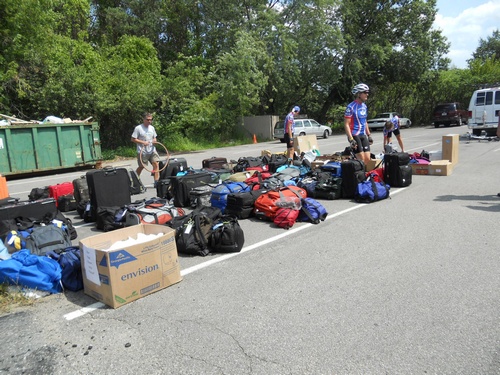 Andrew was picked up at the beach by his son Robert. He still had to swing by the hotel parking lot to pick up all his stuff before heading to Vermont for a few days with family & friends. It was very hard to watch when the pulled out and drove off. I will miss everyone from this trip — but Andrew is one who I will miss a whole bunch!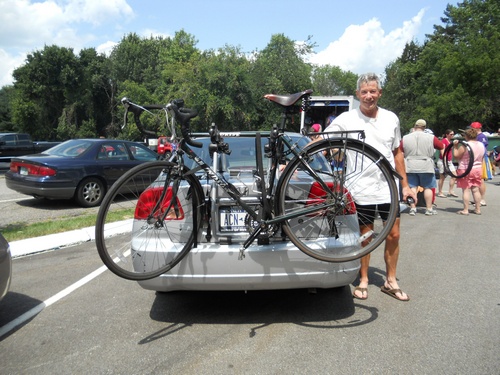 … I got Scooter boxed up and shipped out via FedEx. Originally, I had planned to take him with me on the plane but as we neared the end of the ride I got to thinking about trying to catch a 9:45 am flight out of Boston instead of the 10:00 pm flight I was booked on. With Scooter taken care of, I only had my duffle and a carry-on bag to worry about. In retrospect, it was a wise decision. When I got to Logan the Jet Blue line was out the door! And — I only had a little over an hour until the plane left the ground. Surprisingly enough, I didn't stress over it though. I just waited my turn and with 25 minutes to take-off I got to an agent's counter. The agent was great. I ended up paying a little more to avoid going stand-by but he had me heading for the gate thinking I might make it. As soon as I got to the screening I had a momentary — "Oh, SHIT!" as there were about 50 folks ahead of me trying to make it thru TSA. I went to the front, told them my plane was taking off and they processed me immediately., So, now it was just the x-ray scan and a mad dash down the terminal between me and Colorado! Another "bump in the road" was when the x-ray operator looked at my half-full water bottle and asked my in a calm voice — 'What's in THAT bottle?". UGH! Knowing I couldn't take the water through and not seeing anywhere to pour it out …and knowing that if I retreated to take care of it there was not chance of making the flight — I unscrewed the top, chugged the contents in a single gulp, smiled to the x-ray operator and just a calmly said, "There is nothing in that bottle." They were just about to close the door as I sprinted to the gate. I did make it on and got home 12 hours ahead of schedule!
…. More to add, but have some farm chores to do first!