I am not a fan of any water craft — and taking a one-hour ferry ride is NOT my idea of a good time! However, I must say, the ferry ride from Hyannis to Nantucket was remarkably smooth and I had no sea-sickness symptoms at all. Taking our bikes was not a big deal at all. It cost an extra $7 each way but there was a special place for 'oversized' luggage like bikes and golf clubs where we stowed them as we got on to the boat.
Cobblestones met us at the end of the boat ramp — crazy, uneven, hard-to-ride-on cobblestones! We had been warned, but even with the warnings I was surprised just how nasty they were! Thankfully, they were pretty much limited to the downtown streets. The sidewalks downtown weren't much better. They were paved with bricks that were as wavy as a stormy sea. Maybe they did it intentionally to slow folks down on both the roads and the sidewalks. Parking was also at a premium — I saw several vehicles that used a hybrid approach… a little road a little sidewalk.
Nantucket is a small island and we rode the bike paths to all points on the island.As a friend pointed out, you really can't ride "around" the island because there is not perimeter road or bike path. Our rode was composed of several out-and-backs but it was all beautiful so we didn't mind. The homes were mostly typical 'Cape Cod' style with weathered, graying shingles. I love this look. Some homes had siding on the front and shingles on the side. Not sure when this became a thing, but it looks OK too.
There were several beach stops. At the first one, there were numerous fish heads – attached loosely to the remaining bones of a fish skeleton. Seagulls were picking at some of the remains, but it wasn't clear how this fish massacre happened. Later we learned from a local that it was probably seals. Apparently, the presence of these fish parts on the beach signals that there are seals in the waters nearby. There were also signs about sharks — they definitely seem to be off the New England coast. Although shark sightings are possible in May, late summer and early fall is the shark high-season. No sightings by any of us….
Not surprisingly, there was another lighthouse on the island. It was being worked on (seems like so much stuff is being repaired/refurbished these days…) so we couldn't go in the lighthouse. The Sankaty lighthouse was moved fairly recently because the beach has eroded extensively and it was no longer 280 feet from the edge as it was in 1850 — in 2007 it was only 68 feet away!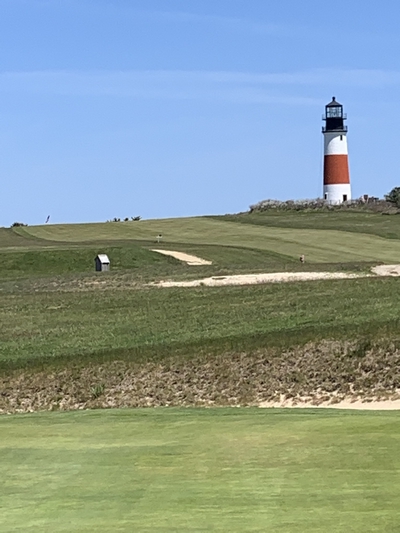 The island's season doesn't start until Memorial Day weekend. This has its pluses and minuses. Since we are about a week early we got have the bike paths to ourselves and the roads were not very crowded either. We got to see the service industry in high gear making repairs and getting properties ready for the big opening. The downside is that many of the island's smaller Mom & Pop stores were closed. Beach port-o-lets had not been put out yet and it was down right difficult for us to find restrooms and places to purchase snacks or a meal!
Back at the wharf before boarding the ferry to return to the mainland I snapped a bunch of marina and shop images. As you can see, even if you didn't bring your bike — it is a very nice place to spend a day window shopping or gazing out to sea at the water's edge.