About a month ago when we decided to stop following the East Coast Greenway I wasn't sure whether our new hub 'n spoke approach would work out. It has actually worked really well and today we moved our hub to Bar Harbor, Maine. That meant we wouldn't ride our bikes today and we spent most of our day driving. That's not all bad though. We stopped at a fabulous little market that served up the best lobster (or lobstah) roll or lobster grilled cheese sandwich and the potato chips that reminded me of Wise Potato chips I had growing up. Seems like just about everything in New England brings back childhood memories on this trip!!
We also stopped in Freeport, Maine to wander the L.L.Bean's flagship store(s). Who doesn't love to wander around a hiking & camping or biking & kayaking store?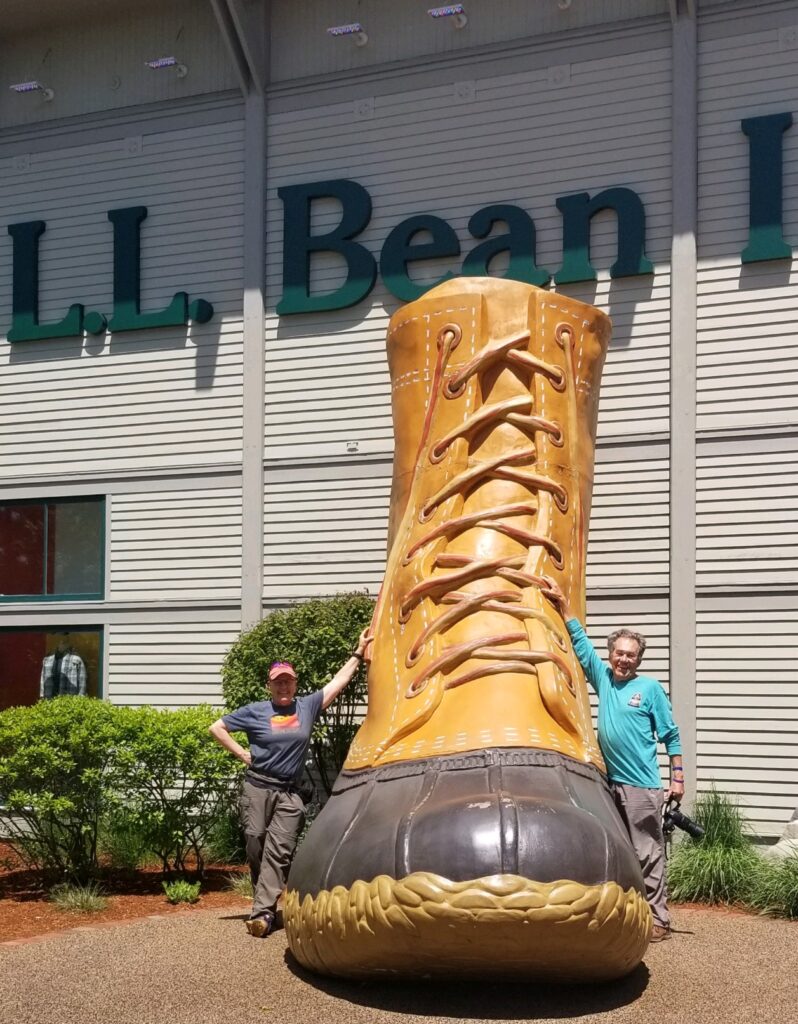 Our destination was the Bar Harbor KOA. It is very close to the Acadia National Park entrance and is right on the water. It will make getting to the park tomorrow a breeze. Sunset over the water was breathtaking.
I know I've said this before — but I've never been an 'ocean' person. I've always been a 'mountains' person. However, I must say that I am thoroughly enjoying every minute we have had by the water and love it when our campground is on or close to the ocean (which seems to be often). The coastline here doesn't look anything like the ones down south. There are no white sandy beaches — what I've seen so far of Maine's shoreline has been very jagged and rocky. There isn't enough sand to put a single beach towel out! And, it is still chilly in these parts. Temperatures in the 50s make the beach scene less desirable too!
There was another MB Sprinter van — at first glance I thought might be a Revel. Turns out to be a custom build. Walter and Jen are from York, Maine and Walter is a fine carpenter. His work is amazing! He has a wiz-kid nephew who helped him with all the electrical stuff and between them they created an awesome van. They gave Beth and me a full tour and later in the evening they came over to check out Buster. Fun to share!