Garmin Data: http://connect.garmin.com/activity/48802019
What a day! I will have to come back and fill all the details in because Beth L and I had our fill of excitement today on our version of the CU Buffalo Classic century. The ride was officially cancelled because of concerns about riders getting in the way with the Four Mile Canyon fire fighting efforts and contention for law enforcement resources.
Well, it turns out that was a good decision — but maybe not just for the reasons just mentioned. Another raging wild fire erupted as our unofficial ride group (which numbered about 10 at this point) came off a screaming descent down the backside of Carter Lake.  Here's the shot I took looking west from the 'T' of the Carter Lake road and Pole Hill Rd. As you can see, there is what appears to be a small brush fire up at a new home construction site. We were probably 1500-2000 feet from this fire.  Well, this would soon become a HUGE wild fire that consumed more than 600 acres in the matter of a couple of hours and continues to burn out of control as I type this.
Being on bicycles, there wasn't much we could do except continue on our way and stay out of the way. As we turned and rode away from the fire, emergency response vehicles (brush fire trucks, "ordinary" fire trucks etc) started flooding the canyon. Beth and I continued to monitor the fire as we completed our century.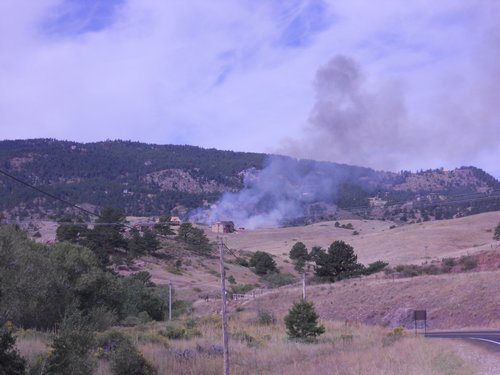 Here are some other shots I took today. Beth and I brought our official ride numbers along with us and we were not alone. We came upon at least 25 other cyclists who were also doing their own unofficial version of the ride. Several were wearing this year's Buffalo Classic jersey. Very cool.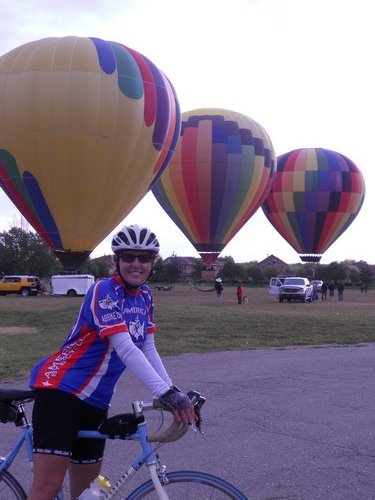 About 30 minutes into our ride we stumbled upon a mini hot-air ballooon festival. There were a half dozen balloons lifting off in an open field just northeast of Boulder. We started today's ride at 7:20am.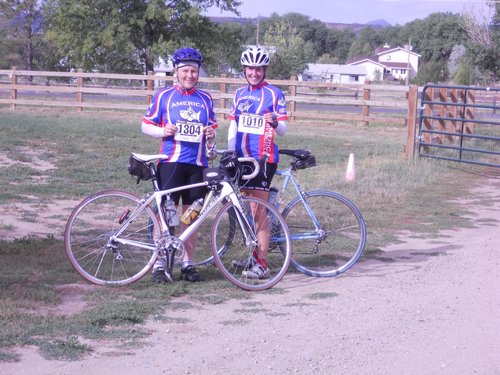 Our first SAG was at Starfire Farm. No van, no stack table — but we did use the bathroom and refilled our water bottles. Better than nothin'. My Beth took this picture of us with our official numbers. Gotta love the ABB jerseys, eh?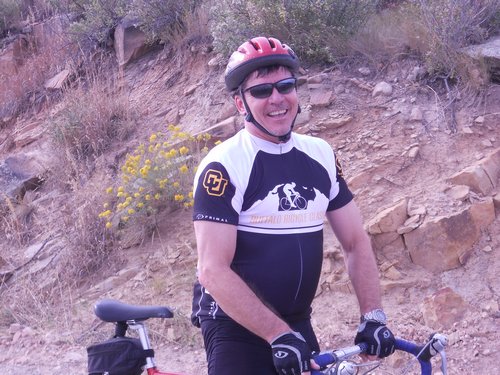 Another rebel rider — this one is wearing the official CU Buffalo Classic jersey.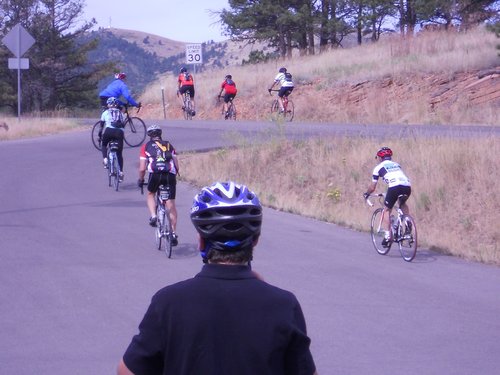 Another group of rebel riders gathered at the Carter Lake marina store located at the north end of the lake (reservoir actually). I snapped a photo as they pulled out and headed for the screaming descent. No photos from the descent — too fast and it required my full attention. My "analog" computer clocked me at 50.3 mph, my garmin had me just under that at 49.2 mph. Either way you look at it — I was flying!
We rode away from the fire for a while — headed north to Masonville before we turned back for our return trip. Here's a photo of Beth taken just after we crossed CO 34. The red rock outcropping in this area are stunning. It has a real "wild west" feel to it.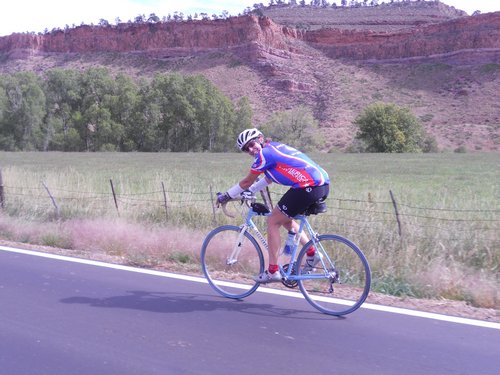 Once we headed back south, we couldn't help but see the smoke from the fire. It was incredible.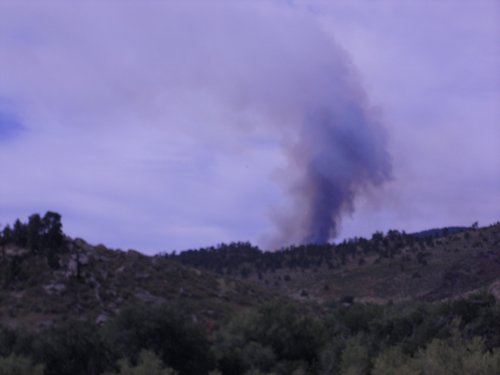 Our route took us a bit east and perhaps our best vantage point was when we were directly east of the blaze.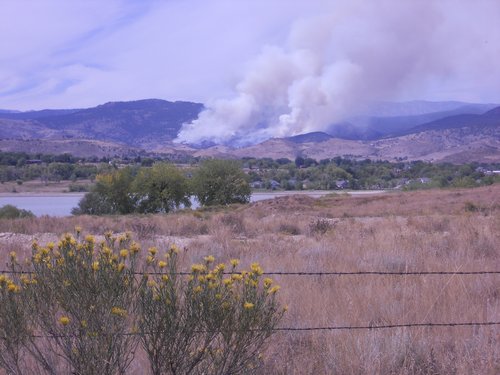 And after we'd gone south for a while we turned west and the fire was visible directly in front of us!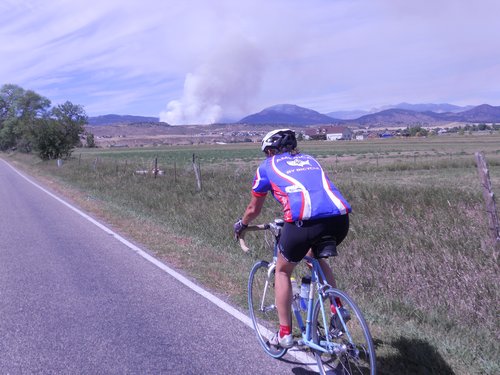 It just continued to GROW. We could tell when a structure went up from the heavy, black smoke.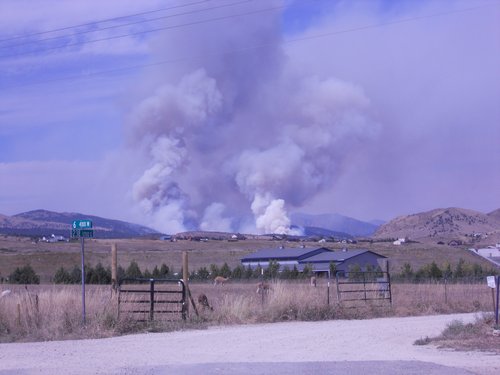 We stopped back by Starfire Farm on our return trip — I took this photo of the paddock in front of our house. The Fjord, 'Jack', doesn't seem to realize there is a raging wild fire right behind him — he's just looking for a little fresh grass or perhaps a carrot!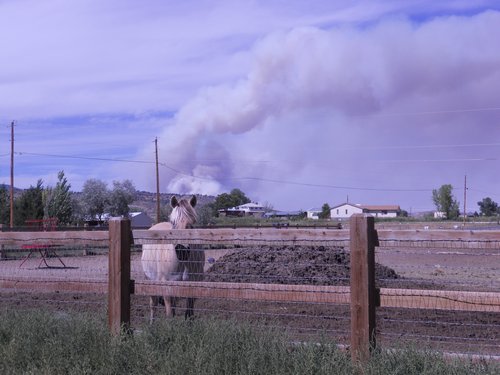 With the fire in our rear view mirror we sped south to Boulder. We had a head wind during this stretch — and for once, I was not only OK with it — I was thankful. A head wind for us meant the fire was moving away from our farm and home.  The winds in Colorado change constantly though and we will be on our guard and ready to evacuate if need be.
Our unofficial century took a slightly different route back to Beth's house in south Boulder and as a result, we were a couple miles short as we neared our destination. We rode up the hill by Fairview High School where we could once again see the fire — this time way off in the distance.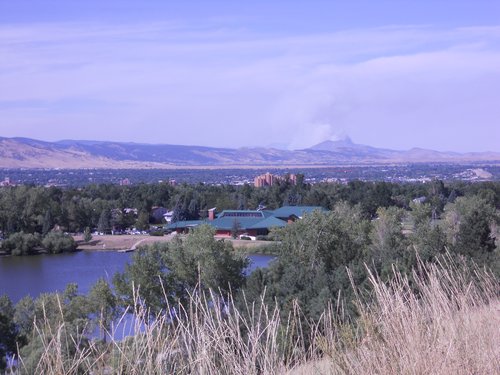 It was strange to think that just a couple hours before we had been right at the foot of that fire. I also knew that I would soon be driving back there.    Here's a rare shot that doesn't have the fire in it! This is Beth with the Boulder Flatirons in the back ground.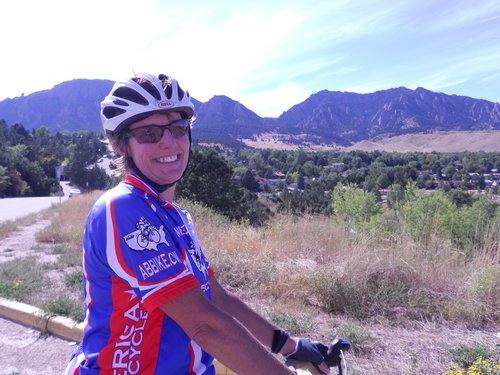 When I got home, I took a shot from behind our hay barn. That's our house and cars in the foreground and the fire (obviously…) in the background. I figure the fire is about 4 miles (as the crow flies) northwest of us. As long as the winds stay light and out of the south or west we're in good shape. If the winds change, we could really have our hands full!