What a way to spend a birthday! It was a wonderful day and as a birthday gift, I got a tailwind and a "long pull" from Leo into Prinesville, OR where he bought me lunch.
Our departure this morning was a tad leisure — 7:30am. The "official route" avoided a climb that used to be part of the ride in year's past. When I saw the switchbacks that led to the top of a mesa, I was excited that we'd get to do it this morning so I was a bit disappointed to hear that we weren't going to go up it. One of the staff overheard me saying that I was really looking forward to that climb — so she, rather jokingly said that I could do it if I wanted. I don't think she expected me to take her up on that, but I did — along with Leo, Andrew and Rod. One other rider, Todd, joined our peleton. The climb did not disappoint. It may have been a mile long, but provided a great view of the area and proved to be a nice "warm-up!" After a mile or two on this private adventure, we joined back up and spent the rest of the ride with the entire group.
I should mention that on the approach to the casino last night and the ride out of the reservations this morning, I counted a total of seven  snakes (six  mushed and one  sunning itself on the warming pavement).  Most of them were rather small, but I'm pretty sure they were all rattle snakes. I took a shot of one to share so you can see for yourself. I'm no snake expert, but I believe the shape of the head indicates  — rattle snake. It would actually be one time that I'd like to be wrong…..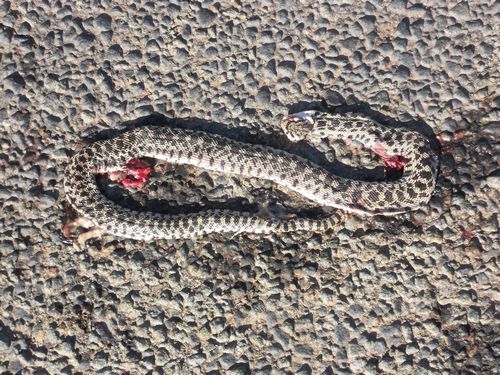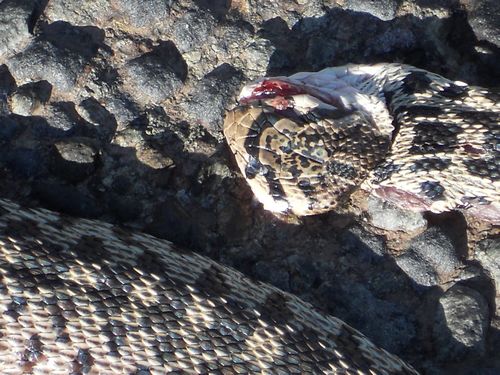 Once we left the reservation I didn't see any more snakes. Isn't that interesting.
It was nice to see some Native American symbols as we entered Warm Springs, OR. Not sure if this sign was designed with Smokey the Bear originally or whether the Forest Service just came along an added their message on top of the Circle of Life sign.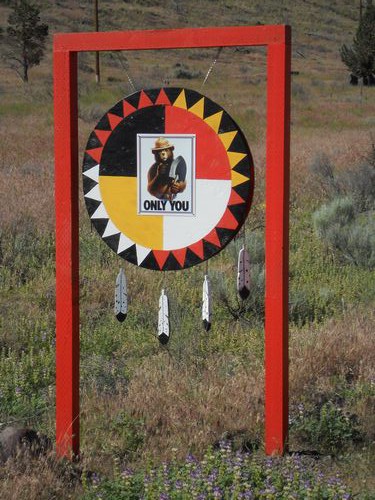 There were some nice long climbs after we passed through Warm Springs that initially followed a wide river that was full to the brim and moving very fast. Looks like they had a good (and, or recent) run-off this year. As we climbed out of the wide canyon, we were surrounded by some of the most amazing rock formations . As this is a volcanic region, I'd have to guess that the canyon we rode through and eventually climbed out of was  old lava flow that was  cut out a ga-zillion years (that's a technical term) by the river. There were also portions of the rock that showed evidence of getting squished. The patterns were stuning!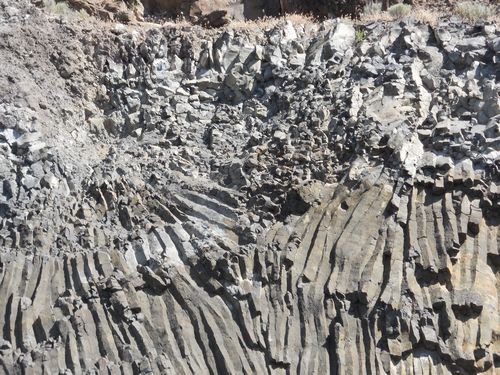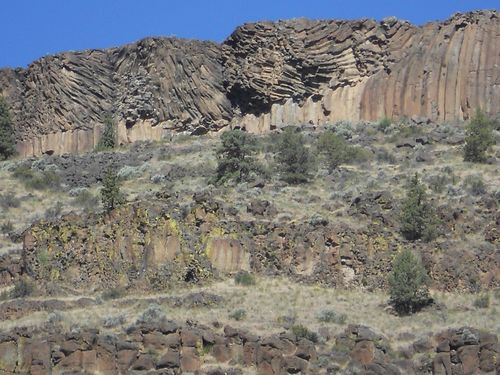 Oops — gotta go to "RAP" – will try to get back and add a bit more before I head off to bed this evening. Can't stay up late tonight to bring the blog up to date because tomorow is 117 miles and I know we're going to need an early start.