After a hotel breakfast buffet, we all headed out in our America By Bicycle jerseys. Normally, there would have been a group shot under the Astoria bridge, but the weather did not cooperate. Apparently there is a nice backdrop in a few days.  My wind guage/thermometer reported 11.5 degrees Centigrade as we pulled out of the hotel parking lot. You can figure out what that is in degrees Farenheight if you want — but, it will fall into the category of "chilly." Felt like many of my Colorado training rides this spring. And, I dressed about the same too!  Long sleeve base layer, long tights and bootie covers on my shoes (to block chilly wind going thru the mesh) and a light wind jacket on top. I did wear short fingered gloves which was fine for the most part. Downhills were nippy.
The ride was extremely GREEN. Lush green the entire way. We rode along Routes 101 and 30 today. Had a SAG stop at the Gnat Creek Hatchery — got to see some of the staff at a "Round-up." There were two climbs along the way, both in the 7% range. For folks from the middle of the country, this was their first taste of of it, but for those of us from hillier terrains it really wasn't that big a deal. I really enjoyed them both — and was no doubt in the minority that I wished they'd gone on just a little bit longer.
My dear friend from Austin, Texas, Leo rode with me the enitre day. Our pace seems very similar and we even climb at about the same speed. We met up with Tom (from Fort Worth — we have two Toms on the trip) about 15 miles outside of St. Helens and formed a little three person pace line. There was a slight headwind on that last stretch and teaming up made it a quick sprint to the hotel. We got in at 12:40pm and believe it or not, our room was ready! Nan & I are without a third roommate right now….but neither of us are complaining. More like we're trying to figure out how to keep out double occupancy streak going!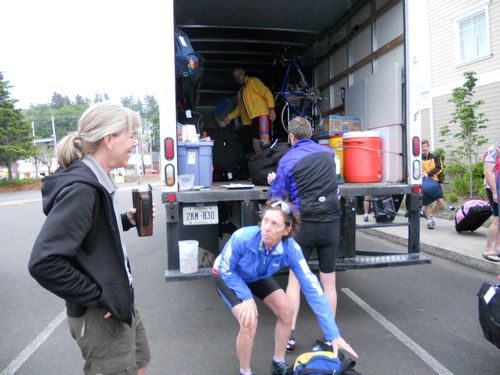 Everyone loads their 35lb bags (not an ounce more?) onto the "Box Truck."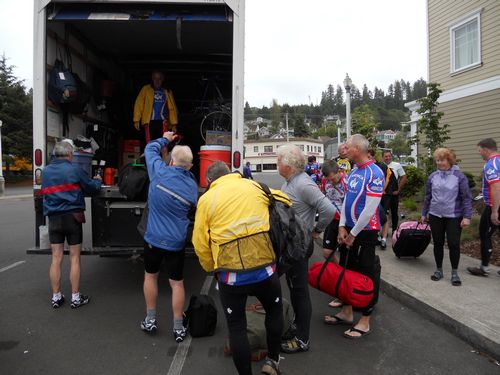 With 54 riders, there is a line for almost any activity.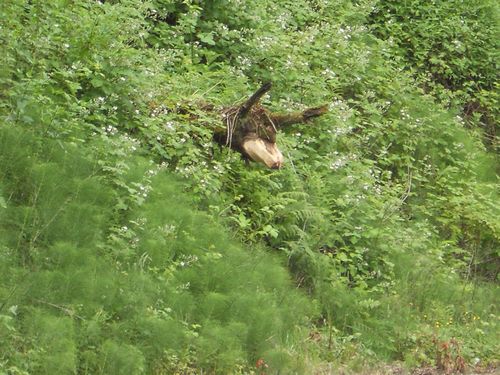 Oregon "Yard Art" — minus the "Yard"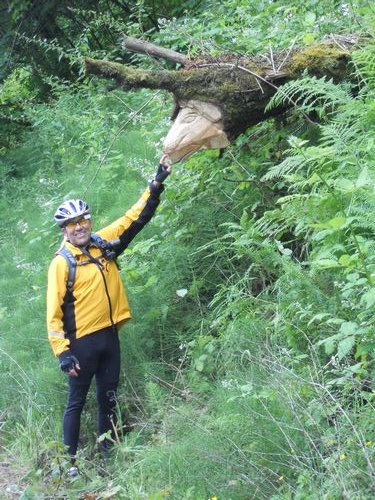 Leo cleaning out "Yard Art"'s nose.