Beth took a few days off and went with her friend Jeannie to take care of a nagging shoulder/neck issue and to get some relief from the rest of us as well. It can be stressful traveling with so many adults in such confined spaces. Even though we spend quite a bit of our time outdoors and on our bikes, there are many hours (especially in rainy weather…) where we are pretty much on top of each other. A little breathing room is healthy now and again.
This left the rest of us sitting around trying to figure out what to do…
Rain was in the forecast for late morning and I had noticed some short hiking trails around the campground. I decided to explore some of them before the storm moved in. Sarah joined me and we took a wooded trail that meandered (our style!) through the woods and came out at the marina and boat launch area. Not a soul was there — this has been a bit of a recurring theme. Other than weekends, we've had the campgrounds and attractions to ourselves. We got back just before the first rain. It didn't last too long and once it moved on we felt we could squeeze in at least one more activity.
The George Mason's Gunston Hall plantation was adjacent to our campground and we could walk there quicker than we could drive. So that's what we did. Our second plantation — this one was a bit more modest and didn't have nearly the historical significance of the Berkeley plantation that we visited the other day down near Jamestown. This house was however, very ornate with beautifully carved wood and period furniture. The red 'wallpaper' was in fact silk cloth, not paper at all.
George Mason was a man of ideas. He basically wrote the Virginia Declaration of Rights and helped shape the nation's Declaration of Independence and the Bill of Rights. Mason represented Virginia at the Constitutional Convention of 1787 and was one of three delegates that refused to sign the Constitution.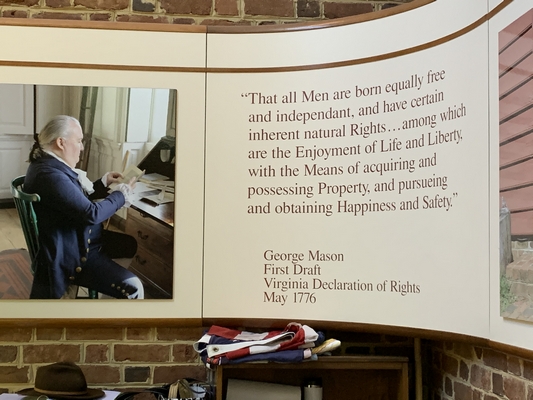 There were reconstructions on the site of many of the buildings and a well that would have been part of the original plantation — a laundry, a milking barn, and a kitchen. It was well done and I left with a better feeling for how hard life in the late 1700s would have been.
We returned to the 21st century and our camp site. Although it was already mid-afternoon, we decided to try to fill out our day with a bike ride along the southern stretch of the Mt Vernon Trail towards Alexandria.
This time, we loaded up Buster, drove about 10 miles to the start of the trail then headed out along the river on a lovely (albeit a bit wet) multi-use path. There were roots pushing up through the asphalt that made riding challenging in spots and we all made water 'rooster tails' thanks to the earlier rains. We were like kids rolling along and the winding of the trail made it fun to carve sweeping arcs as we made our way to Old Towne Alexandria (or was it Olde Town?). The path took us by the water front and Leo even found a little cobblestone to tackle.
Most remarkable part of this ride was the development under the huge bridge just south of Alexandria. Unlike areas under many bridges I've ridden under that are full of garbage, feel unsafe and even become homeless encampments — this bridge's underbelly was clean, and there were large asphalt slabs for a variety of activities including yoga and basketball as well as a large parking area off to one side.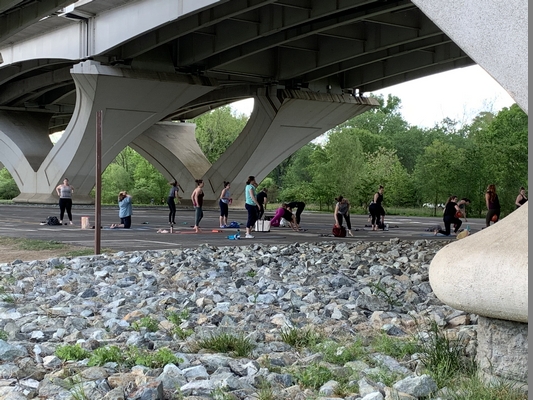 On the way home, we ate out — it was Leo's turn to cook. We found a Salvadorian/TexMex restaurant that turned out to be yummy and had the friendliest, most appreciative staff I've seen yet on this trip.
We eventually made our way back to the campground and turned in (I am always the first one to head off to bed!). It was a busy day and I slept like a baby.