Garmin Data: http://connect.garmin.com/activity/46397853
I guess Scooter and I didn't get quite enough of Wisconsin — or probably more likely, we did not particularly care for the sample of this part of the country that we got while riding across country. If you remember, Leo and I met up with our friend Jim (from Birchwood, Wisconsin) the night we stayed in Rochester, Minnesota. The next day, it rained cat, dogs, deer & bear on us as we rode into LaCrosse, Wisconsin.
Beth and I are visiting with Jim and I was able to bring Scooter (very little overhead as we did not fly a commercial airline) and my impression of riding here has improved dramatically! Amazing how an impression can be tainted by weather conditions. Today's ride, although short, was VERY sweet. I rode several of the rural back roads around the small town of Birchwood. I'm not sure what the population is, but if the town center is any indication — it is small! There is a post office, along with a handful of small businesses, a couple of cafes and the local watering whole. Jim says that long time owners sold out a couple years ago so they could enjoy their golden years and since then there have been probably four different owners. Under its current ownership, it is named "Big Sexy's" — kinda makes you wonder, doesn't it!?
The roads here are, for the most part, nicely paved, with lovely tree canopies and lakes everywhere. Jim's house sits right on Red Cedar Lake. The lake is lapping right now about 100 feet from the screened in porch off my guest bedroom. It just doesn't get any better than this! There is only a slight breeze which keeps the mosquitoes at bay and creates small waves out on the water. Just gorgeous.
My shadow showed up here just as well as it has everywhere else! Guess that's because it isn't RAINING! Notice the shoulder (the road, not mine) — more than adequate although Jim told me to be extra careful riding out here because automobile drivers aren't used to seeing cyclists on the road. Sure isn't like Boulder/Berthoud. I didn't see one other cyclist the entire ride (actually, come to think of it, didn't see any as we drove from Rice Lake to the house either..hmmmm).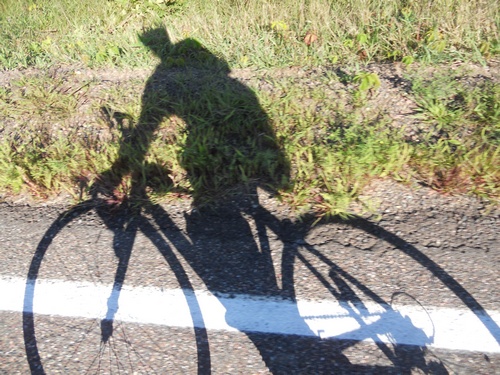 My route took me right through the small town of Birchwood. I'd been here before with Susan and Jim on earlier visits — but I never noticed this little log cabin/museum before. Amazing how riding on a bike exposes you to more of your world!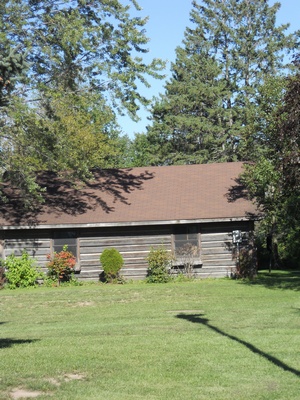 Here's the watering hole's sign. Gonna try to get another one of ME in front of the sign if we get back in town for another meal.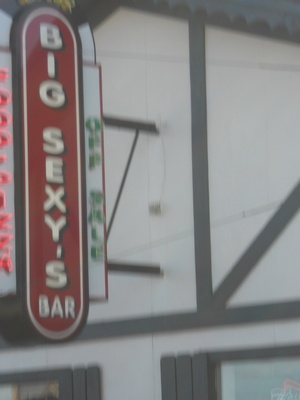 After riding the two blocks called 'town',  I turned right and headed back towards Longtheway Farm. The Birchwood Historicial Society has designated this property as a landmark (maybe officially, but certainly unofficially). The house/barn were built after the turn of the century, circa 1904.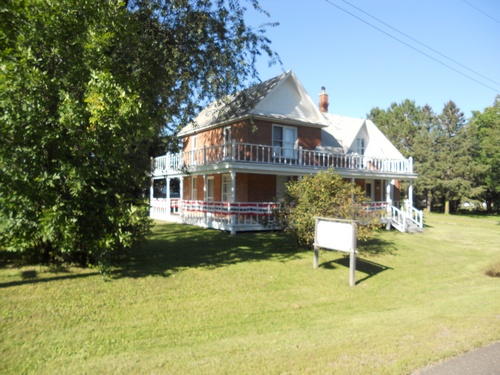 I explored a few of the side streets to see what else the area had to offer. I knew that I'd find some more lakes if nothing else. I was not disappointed. I also found lots and lots of green! You can see by the vines growing up the stop sign's pole that if you aren't moving out here — you're gonna be GREEN!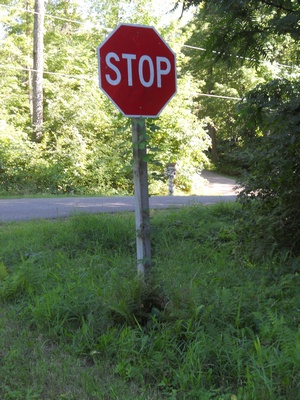 This next shot is of the short dirt road that leads up to Jim's property. It illustrates the tree canopy and shows how cool the light looks coming through the trees. As long as aI was moving, there weren't any bugs either. I did stop to take a photo and got buzzed by mosquitos so passed on the shot and got moving again.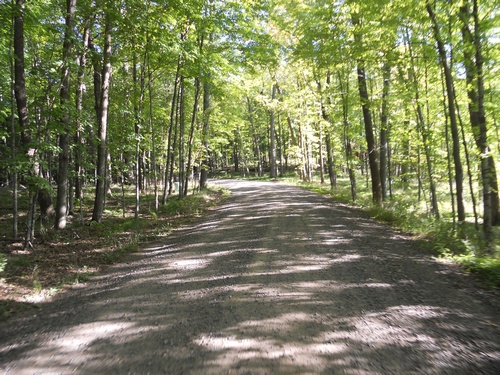 Out here in Wisconsin, they seem to be changing the street names from the, perhaps, easier to remember descriptive words like "East Shoreline Rd" to location/grid based numbers that allow emergency responders to more quickly and reliably locate properties in need of their assistance. And, each property has a sign at the end of its driveway. Here's an example. Notice that the street name is now 27 7/8th Street. I don't know about you — but that would take some real getting used to! All day, no matter where I rode it seemed like I was riding on a road name 27, 28 or 29 — and I NEVER could figure out where I was!