It was hard to leave the wonderful hospitality of Lauren and Jeff — but we loaded up Sarah's luggage (we already had her bike) and headed south toward the keys. Our destination is Big Pine Key.
There was more traffic today and as we made our way south more congestion. I rode with Sarah today and we chit chatted our way thru most of the morning. Our conversation was interrupted when Beth and Randy pulled off to the side of the road at the far side of town. Turns out, it was LUNCH TIME and Beth eyed a small food truck along the side of the road.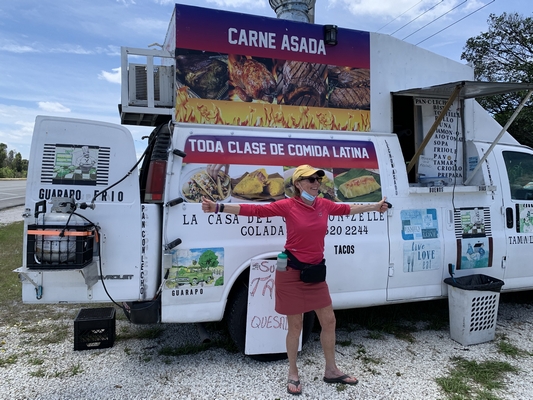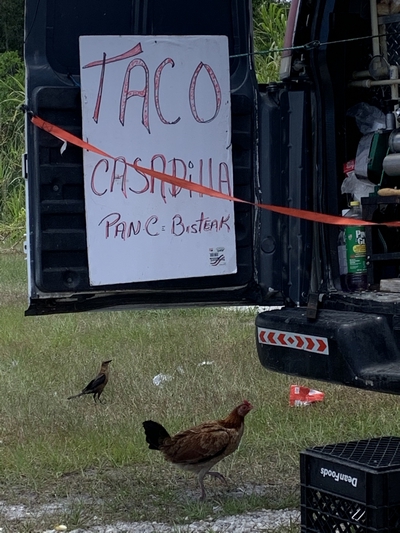 We scored again. Good, home made pork tacos that were better than anything you'd ever get from a chain restaurant. This food truck even had a pet chicken!!! Emphasis on PET.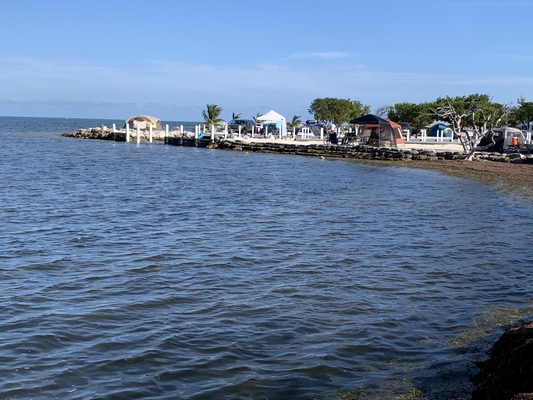 The traffic got heavier and overall there was more congestion as we headed down the single highway that goes from Key Largo to Key West. There are small spits of land and at times that spit of land is only slightly wider than the highway, and the water is only a few feet lower than the height of the road. It was incredible. I've never been this far south in Florida before.
We stopped at the visitor's center and the cashier pleaded with us to be extremely careful on our trip. As we all know, it can be dangerous to share the road with cars, trucks and trailers. We promised to stay alert and watch out for each other.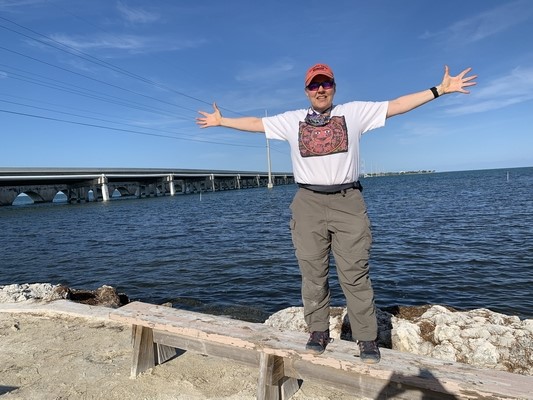 Our campsite for the next few nights is right on the water — our site is just 3 sites in from the water's edge. Sites are small and we're packed in pretty tight. We had a little exchange with our neighbors over where our site ended and their's begins. Poor Buster ended up having to move — but the new site is right on the boat slip and a pretty cool location. I plan to sleep with Buster's back doors open and allow the sea breeze to wash over me while I slumber.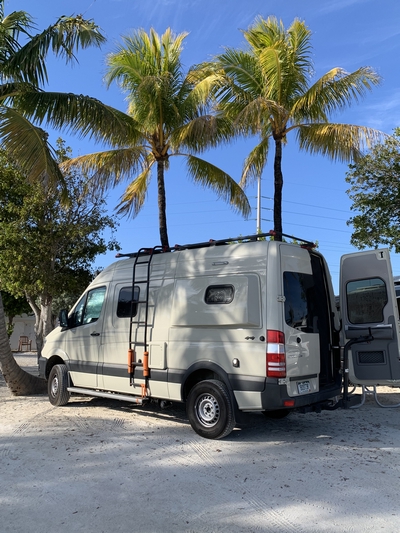 We had a very pleasant visitor at our site tonight — a key deer. Our neighbor fed it carrots and said he loved animals so much he just had to do it. I said I loved animals and that why I didn't feed them!