We descended on my college roommate, Carla, who is working remotely in a condo right off the ocean. I'm not sure I could concentrate on work if I lived there!
The last time I saw Carla she stopped by our farm in Colorado with friends on the way home from their own RV adventure to Alaska. After some deep thinking and calculating we realized 16 years have passed since that visit! Funny thing though, we didn't feel as if any time has passed between us. We picked right up where we left off…. it was not the least bit awkward or slow to rekindle our closeness.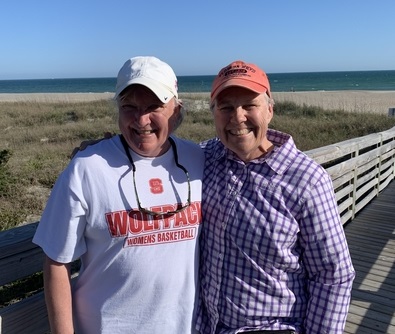 Carla rolled out the red carpet and arranged lodging for us all and special overnight parking for Saddie since the RV was not allowed in the condo's parking lot. Buster, because he's just a regular van got to stay close by. We feasted on fresh scallops and a shrimp and pasta dish. It was delicious and much to Leo's dismay, there were no leftovers this time! Strawberry shortcake for dessert and we all slept like babies.
The ride from Wilmington to Atlantic Beach was another classic split ride. After being woken up by the GFL (Geen For Life) recycle truck, Beth and I rode from the campground to a meet-up spot near an AT&T store. Sarah needed to get some technical support for her phone and Randy and Leo were the morning drivers. Our ride was mostly on bike paths with short stints on bike lanes in between. There was one 3-block section on a busy, 6-lane road that is probably the least bike-friendly stretch I've ridden so far on the trip. No incident, but I felt very vulnerable — only 3 blocks, but a lot can happen in 3 blocks!
Once we regrouped and had lunch ('Buritto Shak' ) we drove a bit until we got across to the barrier island housing Atlantic Beach. Beth and I drove on to Carla's condo and Sarah, Leo and Randy rode in. At the end of the day, each group got in close to 30 miles.