Today I woke up to a pelican sitting by the slip where Buster was parked. It was a gorgeous sunrise and a good start to the day.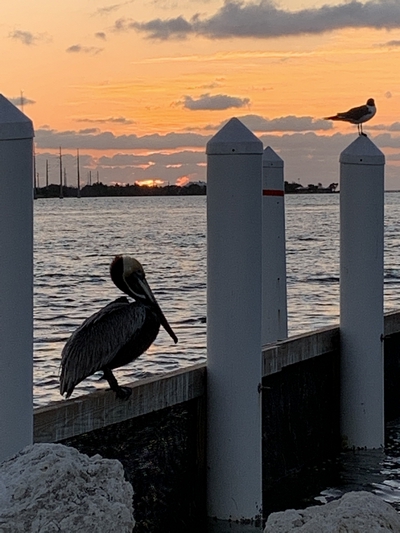 We officially started our ride. After breakfast, we loaded up Saddie with all of us and all of our bikes. On our way to Key West, first there was a short stop at Big Pine Key Bike Center to get the thru-axle on my second wheel set tightened. Real nice little shop — they have been struggling to get bikes and bike parts to sell just like everyone else in the world! The rent/sell E-bikes from the Netherlands and recently have been unable to get any of those either. The ones they have gotten are all sold within hours!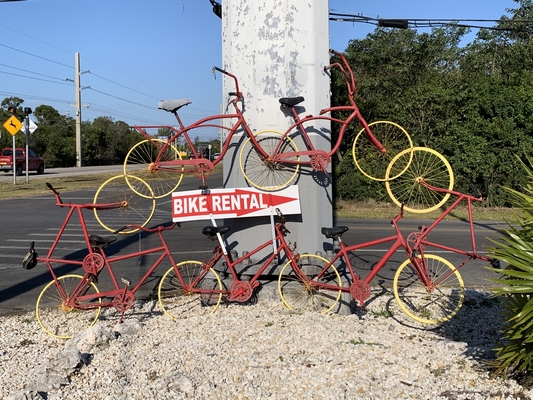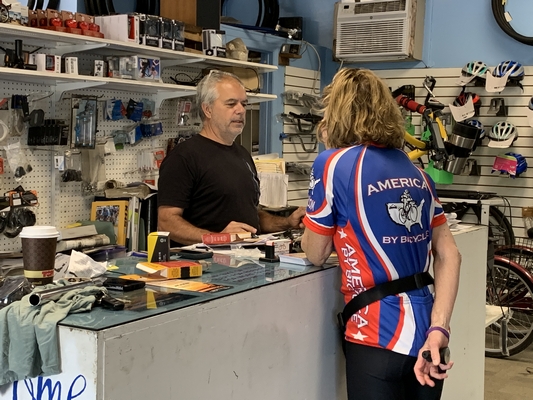 Key West was a hopping place. There was every type of transportation imaginable — bicycles (of course), scooters, golf carts on steriods, mini-smart carts, three wheeled low riders and a locally run trolley. The other thing we had to watch out for were roosters and chickens — they were everywhere! And, these too seemed to be pets. These crazy Floridians! It was WILD.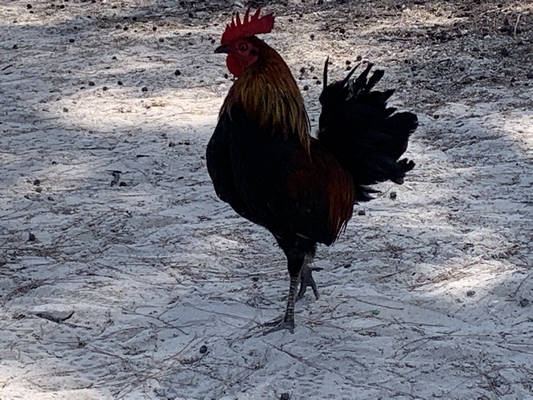 Saddie was parked a short ways outside of town. Once all the bikes were readied, we made our way around town and down to the southern most tip — where the buoy and our official start point was. I shouldn't have been surprised (but I was…) that there was a line of folks already waiting to take their pictures there too! I can't imagine that many of them are using it to mark and adventure quite as long or exciting as ours!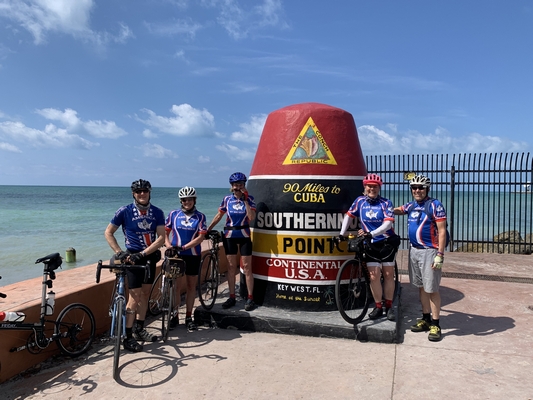 The water was beyond beautiful — because of the sandy bottom and its shallowness the aqua color is absolutely stunning. After our official start photo we worked our way back to Saddie but rode right on by. The tour started with all of us for the next 10 or so miles. Then Randy and Beth turned around and rode back to get Saddie and leap-frog ahead of us to find a lunch spot. Sarah, Leo and I continued riding. The route is not well marked. Actually, it is pretty much unmarked. But, the good news is there is only one road thru the keys — literally ONE road, US 1.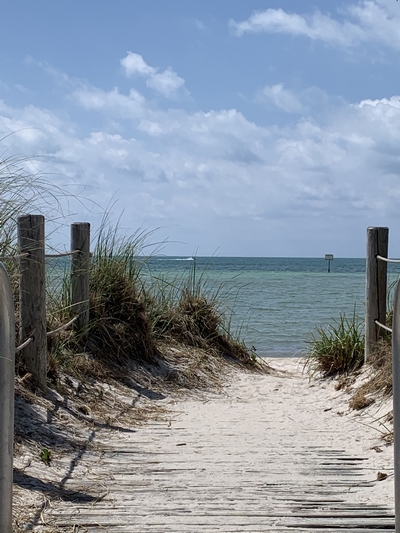 The route was a mix of bike paths parallel to the road and bike lanes along the right edge of the road. The shoulder today was plenty wide and the motorists seemed to be on their best behavior. No one buzzed us although a few did pull out in front of us and across the bike path to merge with the highway traffic without even glancing to see if anyone was riding the path. Luckily (actually, it is much more than luck — it is defensive riding!) there were no incidents. We did come upon a ghost bike. This is a bike placed at the location where a cyclist has been hit and killed. It is always sobering when we do. Each of us knows someone — a family member, a friend, a co-worker — who has has tragically lost their life while cycling. It is a good reminder to us all as to how alert and focused we all have to be on this ride.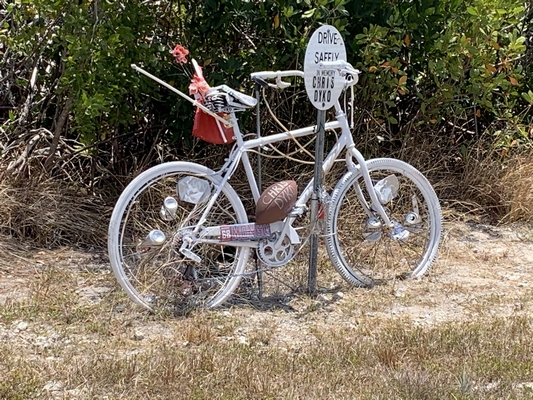 Beth continues to find the best lunch spots — today was no different. I'm still ordering anything that has seafood in it. Randy broke ranks and ordered a Philly Steak sandwich. I asked him if he was eating Angus and he thought about it and decided it must be 'black fish'…. I think I might refer to beef as Udder Fish. For now, I'm sticking to fish that comes from the sea, not the feed lots of the Midwest.